Summarized version:

Purchase the following:

Mellanox ConnectX-3 10Gbe SFP card from eBay (~$24-$29 at time of writing). Make sure the length is x4; x8 is too long.
M.2 NGFF to PCI-E x4 Adapter (~$10 for 2pack; Get the white one; The green ones are generic poop).
PCI-E x4 extension ribbon cable from eBay ($5.68) I have since modified my setup to NOT use this ribbon cable. It proved unreliable at best. The one above is gone, but Newegg still has one for sale.
Wall power adapter (12v) to molex adapter.

Download and print "Thicc Skull" from thingiverse on 3D printer.
Total spent on single skull canyon setup (including the Mellanox card): $43.68

The 3D printed case is technically optional if you want to get tricky about it.

Test. Enjoy.
This is nuts — but it works; Our micro homelabs are about to change forever.
We have an Intel Skull Canyon NUC ESXI cluster running 6.7u1. Each is filled to the gills with 32GB of ddr4 sodimm ram (and recently was discovered to run with 64GB!). VMware runs like a champion, fully supporting the 1G nic, plugged into our 1G switch. All VMs live on an all-flash storage being served up via iSCSI datastores… via that same 1G nic.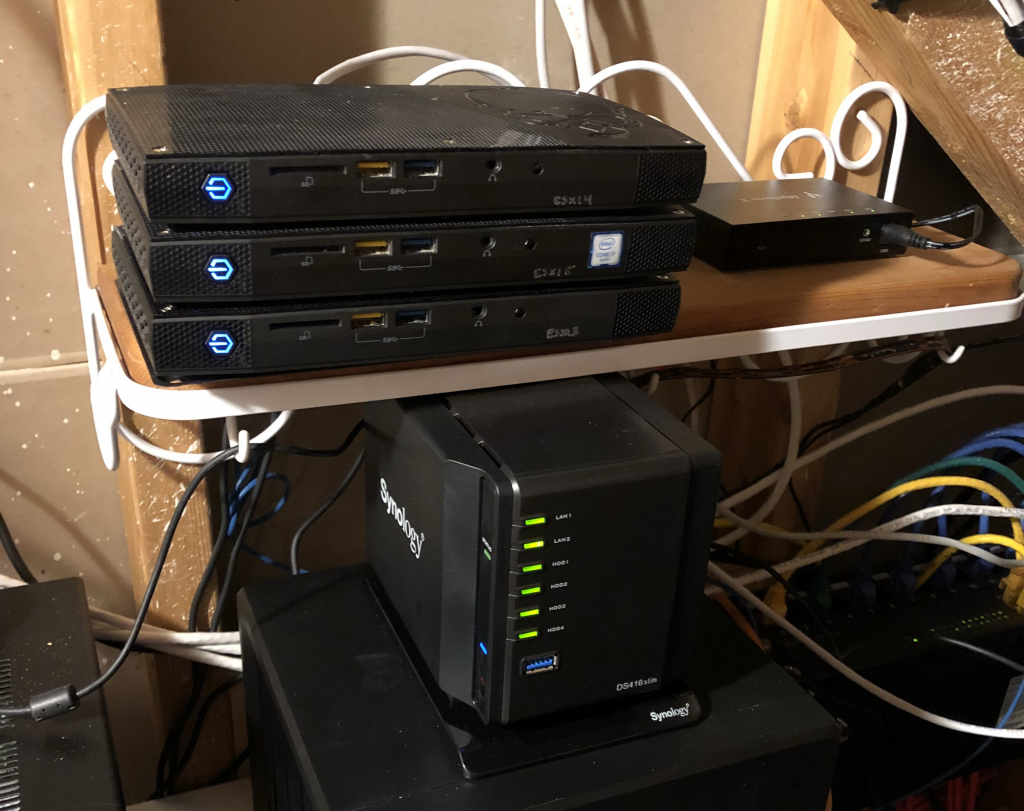 BAH with 1G I say! Homelab is all about experimentation, and I want faster, but not hungrier (read: low TDP).
Enter the Skull Canyon PCIE x4 Expansion Ring, or *drumroll* — Thicc Skull.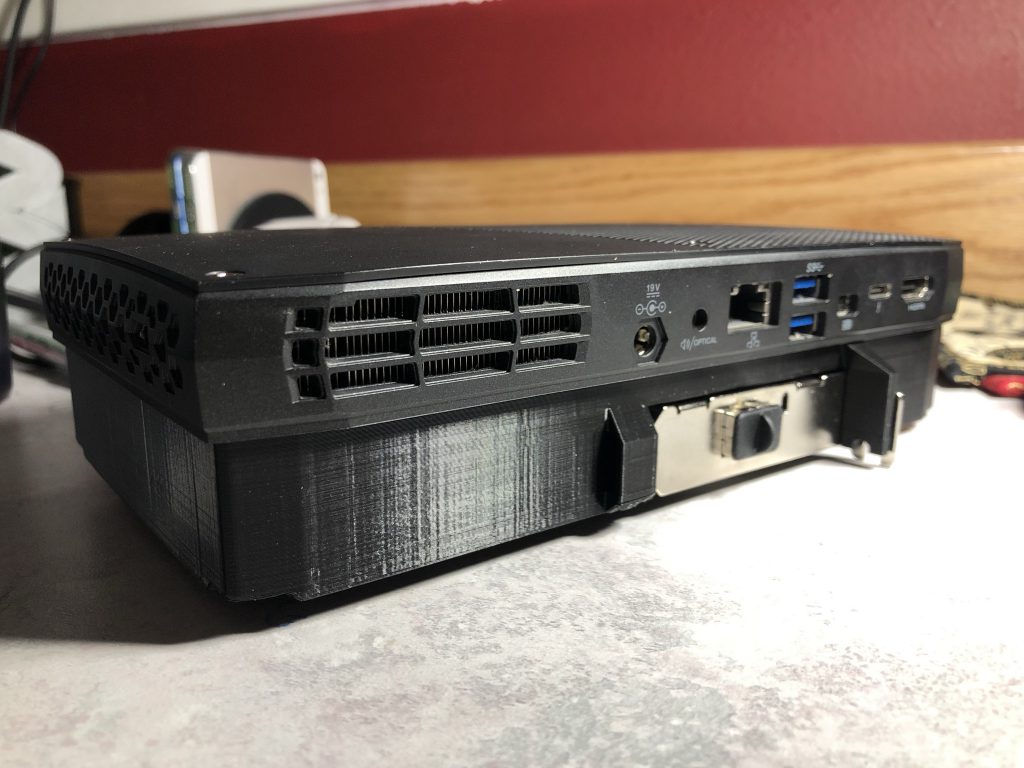 Thicc Skull allows for any low-profile sub-4″ length PCI-E x4/x1 card to be added to the Skull Canyon via a custom, hand-crafted-in-blender, 3D printable expansion ring. *gasps for air*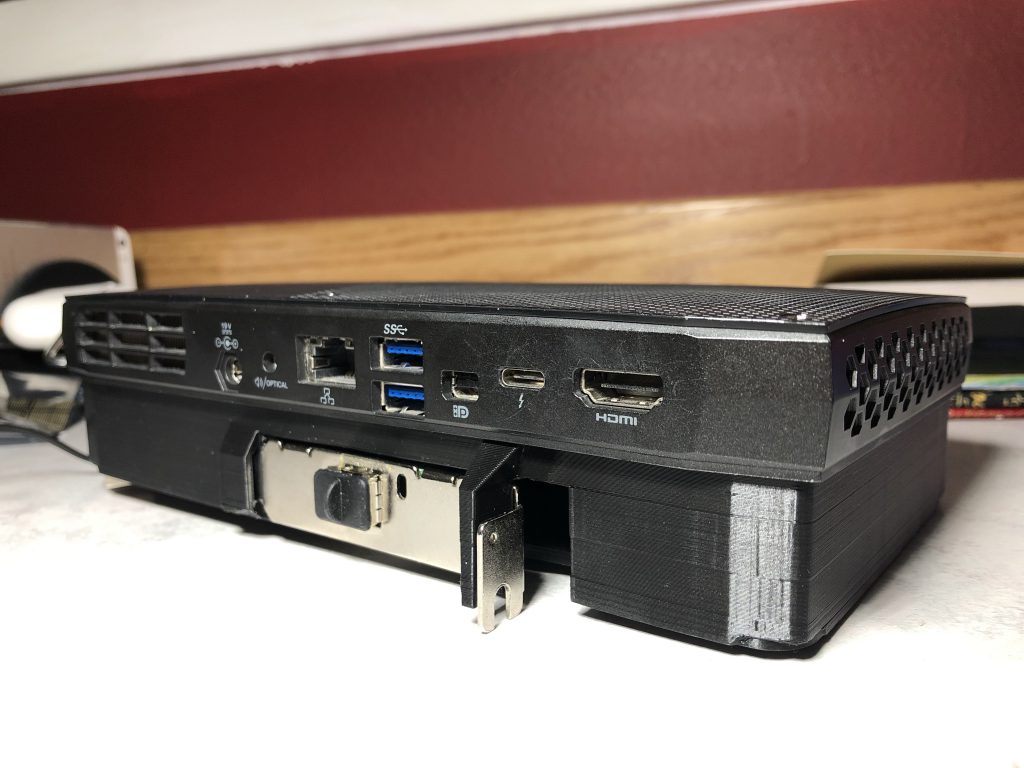 83 hours of modeling and test printing. over 400grams of filament blown on making sure measurements were as even as possible, while still having enough flex to fit multiple situations.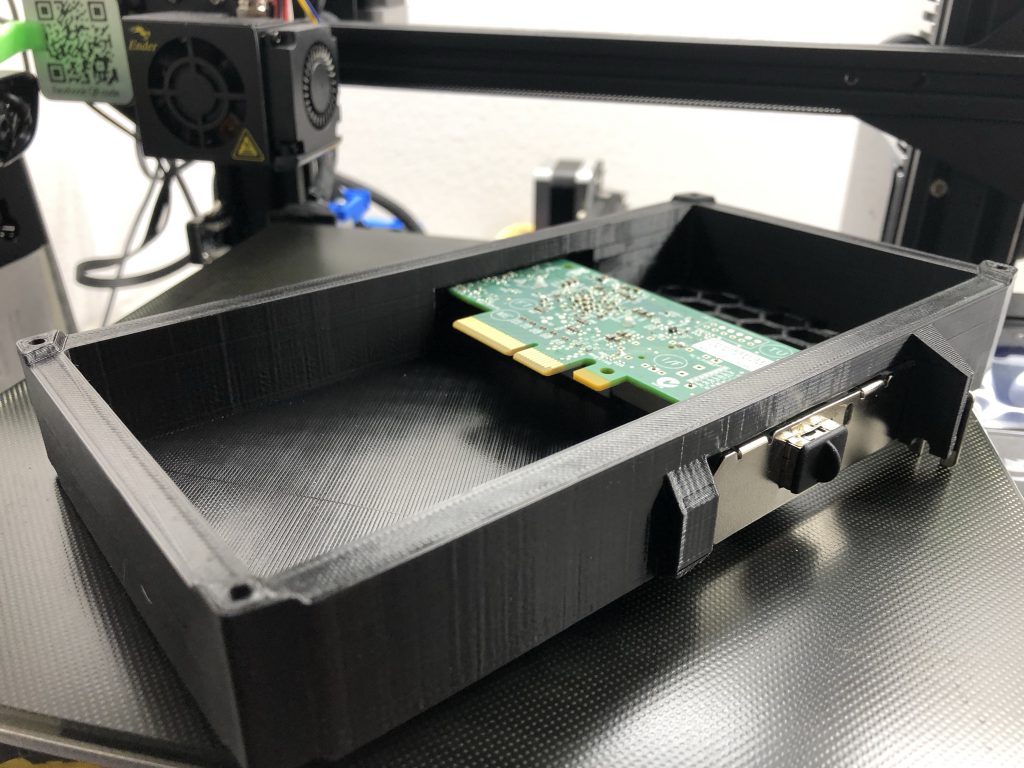 Prior to installing the NUC itself, you'll install the card, (which in our case was the delightful Mellanox ConnectX-3 10Gbe card) which gets inserted from the outside. Finagle your way in, being careful not to knock the "stabilizer" fin off.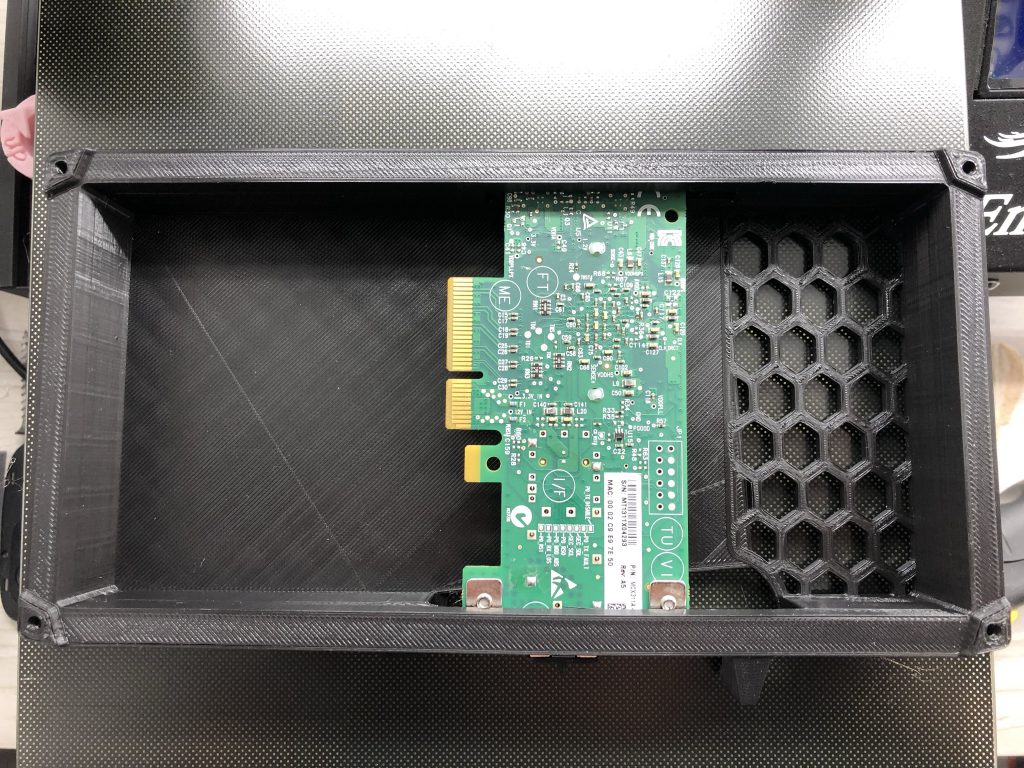 There's a nice little shelf at the back that the card can rest on. If you have a particularly tall heatsink, a landing-spacer is also available for you to print, included in the .STL download available on thingiverse; This allows the card to sit a hair higher so the heatsinks don't touch the PLA. Please don't let your card's heatsinks rest on the bottom of the 3D print – it will melt.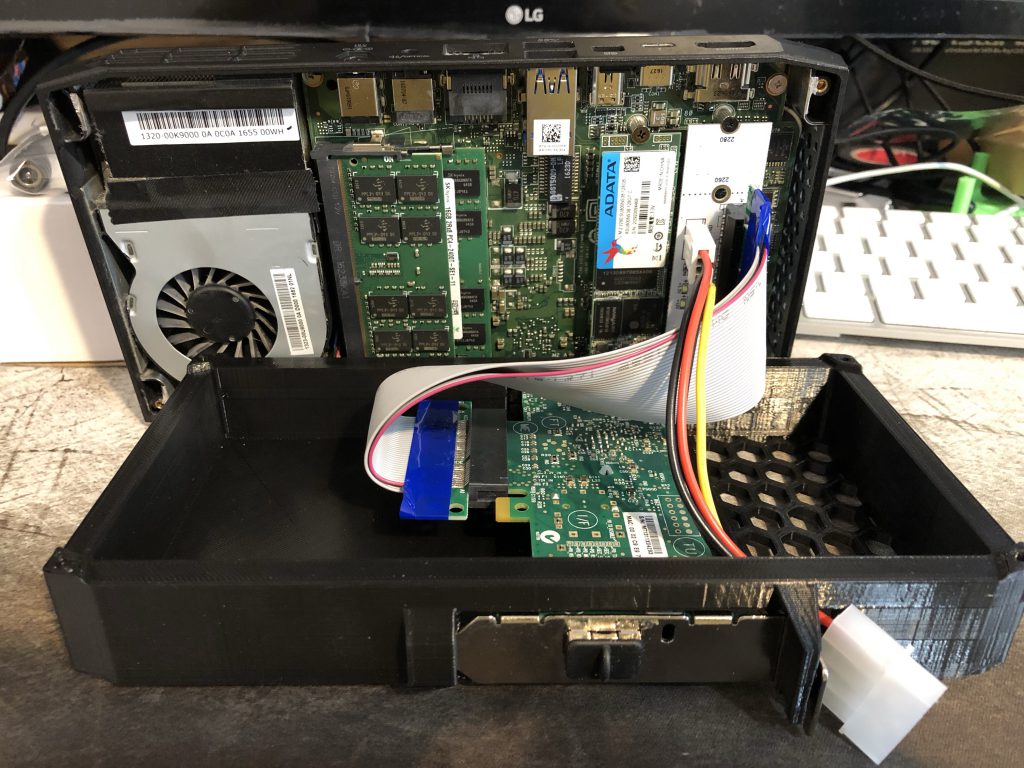 On the inside, fully hooked up, you'll see something like the following above. I've opted to install ESXI 6.7u1 onto an Adata M.2 SSD in the first M.2 slot. The second slot contains the all-magical M.2 riser card, plugged into the 10Gbe NIC card via x4 extension cable. (NOTE: As a precaution (not pictured), I wrapped the x4 extension cable in electrical tape near the DDR4 Sodimm RAM, as it does make direct contact with those chips).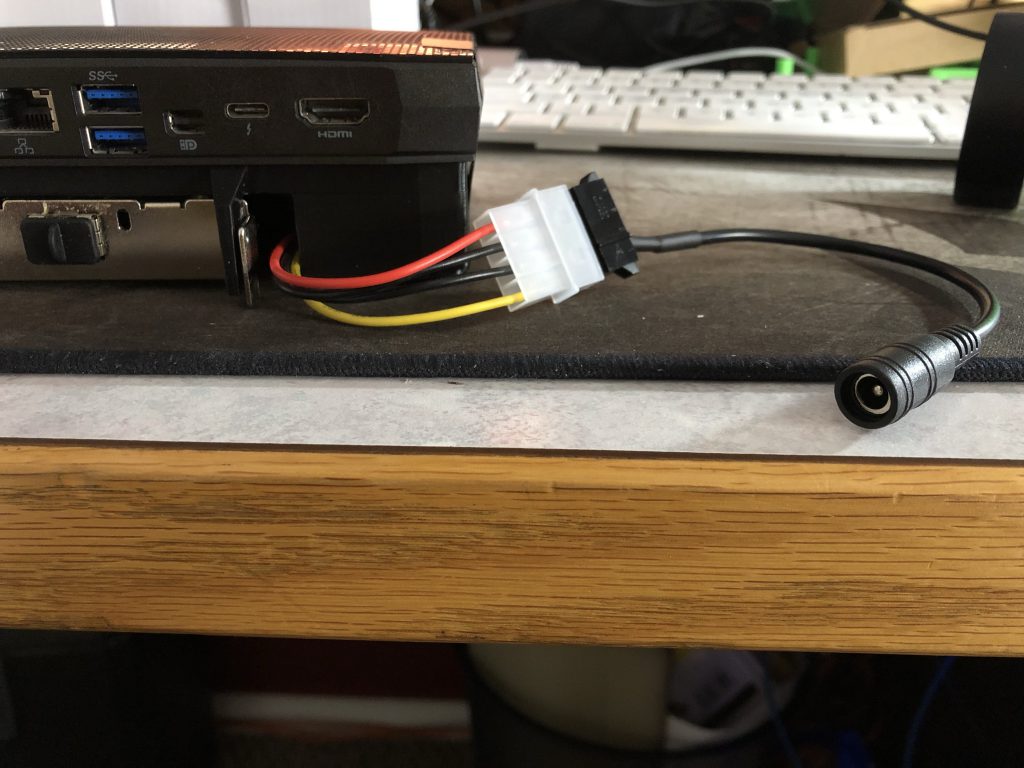 This is more cosmetic / ease of use than anything, but I ended up getting the Molex attached to some barrel-style power adapters (the ultra common 5.5mm x 2.1mm size) and some wall-wart power adapters (12v / 1A); The Mellanox ConnectX-3 sips power at around 500-600 milliamps, so 1A is plenty.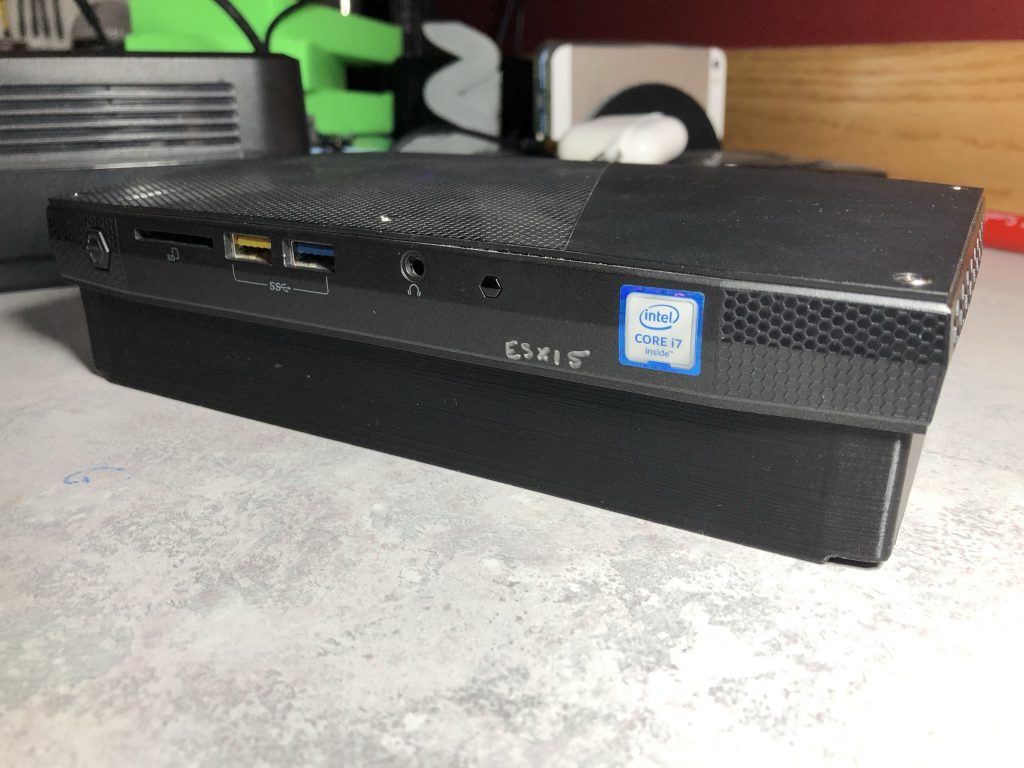 The front is basically unchanged. Maybe I'll embed some letters on the front that say Thicc Skull or something.
I've printed the final version in a few colors: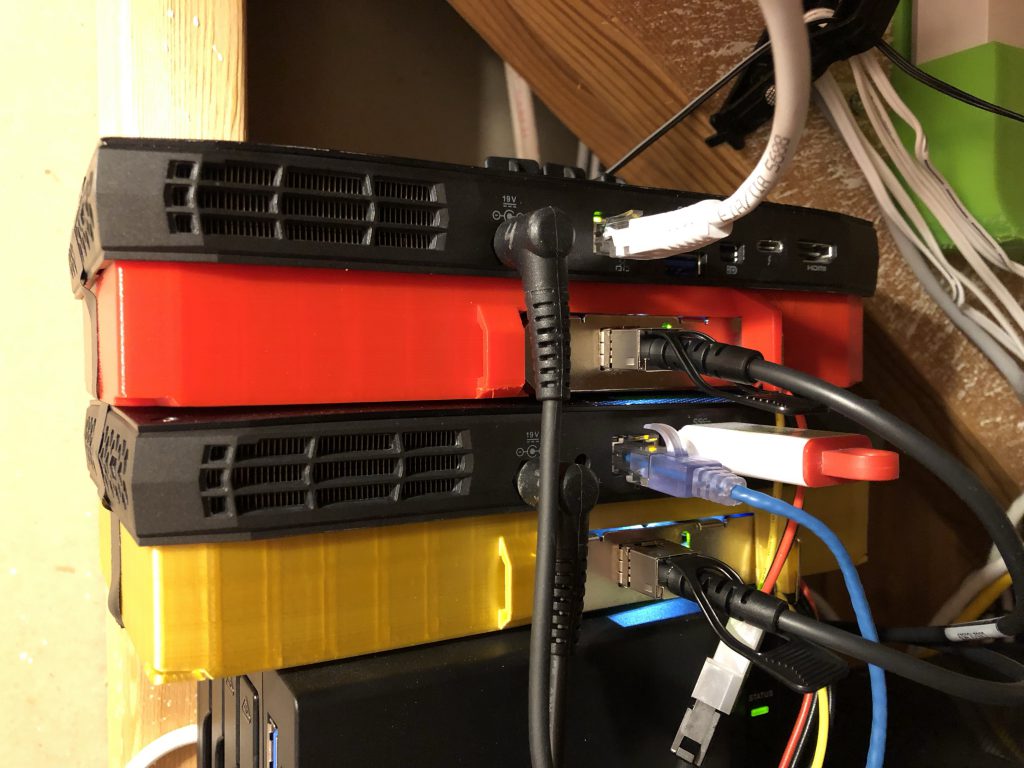 Please feel free to comment and show off your own creations!
Screw you expensive Thunderbolt 3 adapters.
Enjoy the speed.